Dubai, UAE – Dubai Law School
由于CAACC中英艺术交流中心是CBL国际教育中心官方签约授权的招生代理机构,因此凡是通过CAACC组织集体报名CBL教育项目的学生、或个人直接在CBL官网报名的学生,只要在报名缴费时注明"CAACC"字样,即可在学期结束后得到CAACC授予的1000元奖学金。通过CAACC集体报名的学生学费与CBL官网报名的学费金额完全相同。
Description
The Dubai Law School is an exclusive 2-week programme organised by CBL International giving students an opportunity to study abroad in the global hub of Dubai, United Arab Emirates.
CBL International Dubai Law School:
Give students from carefully selected universities the opportunity to study abroad in Dubai
The only law programme in Dubai focusing on Middle Eastern Law, Real Estate and Property Management, and Arabic Language.
Perfect combination of academic and personal UAE experience by covering the most thrilling and relevant study subjects
Provide an unforgettable leisure environment
The CBL International Dubai Law School is organised by CBL International, which is an exclusive education provider who offers short-term study abroad programmes with emphasis on global law, business and cultural issues. We provide tailor-made university courses, executive conferences, and summer school programmes for international students and professionals throughout the world.
This 2-week session of Dubai Law School will be composed of 6 courses related to local legal practices, business management, and economic and legal systems of Dubai. Combining lecture time, preparation, study time, and tests, each 2-week programme is designed to be equivalent to 3 - 4 ECTS credits or 1 - 2 US credits. Each week delegates are invited to participate in one examination. All programmes offered by CBL International Education are run in partnership with The Higher Colleges of Technology, UAE University and the Emirates Academy of Hospitality Management. The Higher Colleges of Technology is accredited by the Ministry of Higher Education and Scientific Research of the United Arab Emirates and the ACBSP Accreditation Council for Business School Programs.
MAXIMUM PARTICIPATION FEES
Winter 2017/2018: 2060USD
The tuition fee of the study abroad course includes the registration fee, all lectures, visits, excursions, language introduction to Arabic, lecture handouts, sightseeing in Dubai and additional Emirates, and the Desert Safari tour.
(Above is our website price, please update to your client price according to our agreement)
MAXIMUM EXTRA FEES ( there is no commission for this part)
Accommodation & Transportation in Dubai
Standard Package (double room on campus or 3-star hotel) – 980USD
VIP Package (single room on campus or 3-star hotel including big bus tour ticket) – 1480USD
Please note there are no meal options. On select occasions, Dubai Business School will provide delegates with meals. These will be communicated to delegates at the start of the programme.
Transportation related to the programme is included with private coaches, mini buses, or taxi from meeting points designated by the Programme Director. Please note for delegates who are not staying in CBL International-organised accommodation, it is the delegates' responsibility to pay for transport to and from meeting points throughout the programme.
WHERE?
Dubai, UAE
http://www.dubai-lawschool.com
NUMBER OF PARTICIPANTS
Average 20
AVAILABLE DATES:
Winter 2017 Session:
27 December 2017 – 6 January 2018
COURSE MATRIX & TIMETABLES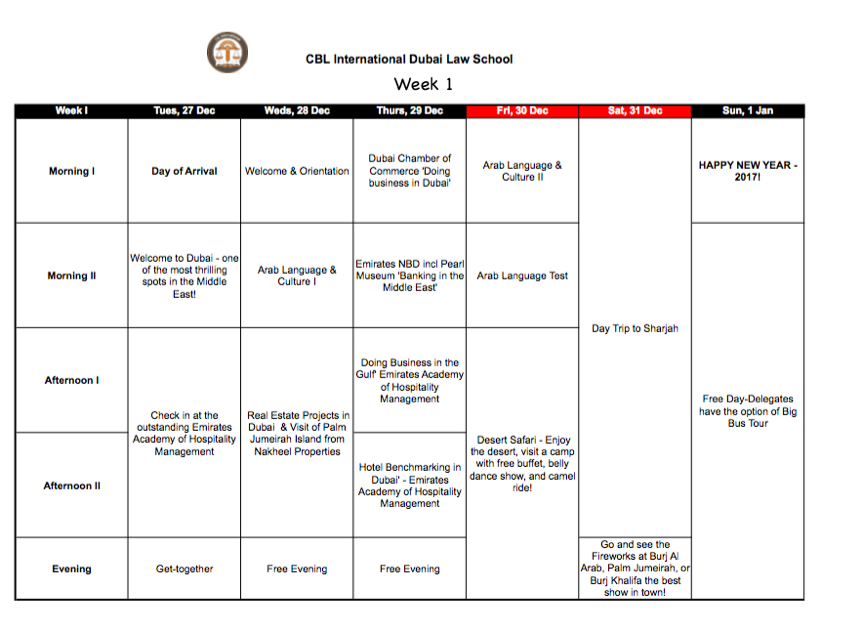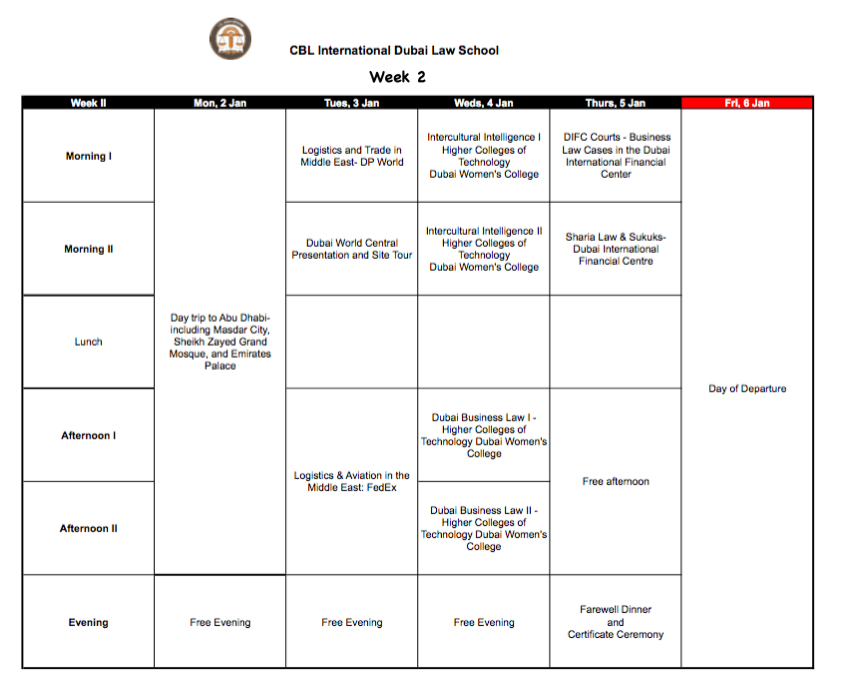 CONTACT
info@cbl-international.com
customer@caacc.uk